Sandy Simon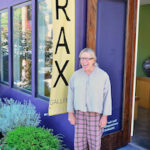 New Work for the St. Croix Pottery Tour is online.  Shipping for cups is getting revised.
Sorry for the over charges; we will amend once they are packed!
In 1994 Sandy wanted to provide greater representation for ceramicists dedicated to utility so she opened TRAX functional gallery in Berkeley, CA.  As a potter, she keeps her forms minimal highlighting the landscape of the covered jar form she most often makes. There is an addition of nichrome wire handles, or subtle alterations including cutting, piercing, seeds, and thread. Her pots feel modern, yet familiar and comforting. "I want my pots to express spontaneity and suggest use.  I enjoy making new forms for the  presentation of food."  Recently the "acorn" rather than the Peruvian "lucky seed", is used as a "pick up" for a lid.  (although not wanting them to sprout or rot, Sandy roasts them first in the oven)  "The acorn is where the oak sleeps" – Master Mingtong Gu
Sandy was a student at the University of Minnesota, Mpls., in the late 60's studying under Warren MacKenzie and Curt Hoard. Classmates such as Mark Pharis, Wayne Branum, Michael Simon,and Randy Johnston are well known for their careers in clay. "At the time we were students, the energy in the pot shop was at an all time high. The free speech movement took root. Making something by hand had an audience.  Today,with the internet, the pace is much faster.  Potters provide our connection to the earth-which we must never loose.